It can be pretty easy to go to the shelter and fall in love with a puppy or young dog: those twinkling, bright eyes, that playful personality. But how about falling in love with an older, greying dog with cloudy eyes and a calm and gentle soul? Every dog in a shelter deserves a home, and these senior dogs who have been relinquished, lost, or abandoned are no exception.
If you do find yourself tempted to open your home to a geriatric dog in need, you'll first have to ask yourself some basic questions to determine if you are appropriately situated to care for one: Is your home a safe space for a senior dog (i.e., one with easy access to an outdoor space and free from obstacles like long stairways)? Is your lifestyle conducive to caring for an older dog (i.e., a less active one without other pets or young children who may not be as respectful of a fragile animal)?
If the answers to these initial questions encourage you to proceed, be aware that there are some additional matters you'll need to consider that typically wouldn't arise when adopting a young dog. For instance, what health ailments is this older dog suffering from? How long will they live? How much will their care cost? And is it really true that you can't teach an old dog new tricks?
Of course, we may not be able to answer all these questions definitively, but we can do our best to educate ourselves about what to expect from this very sensitive generation of dogs. After all, senior dogs, defined as a dog living within the last 25% of their predicted lifespan, have unique needs that should be met if you're going to give them the life they deserve.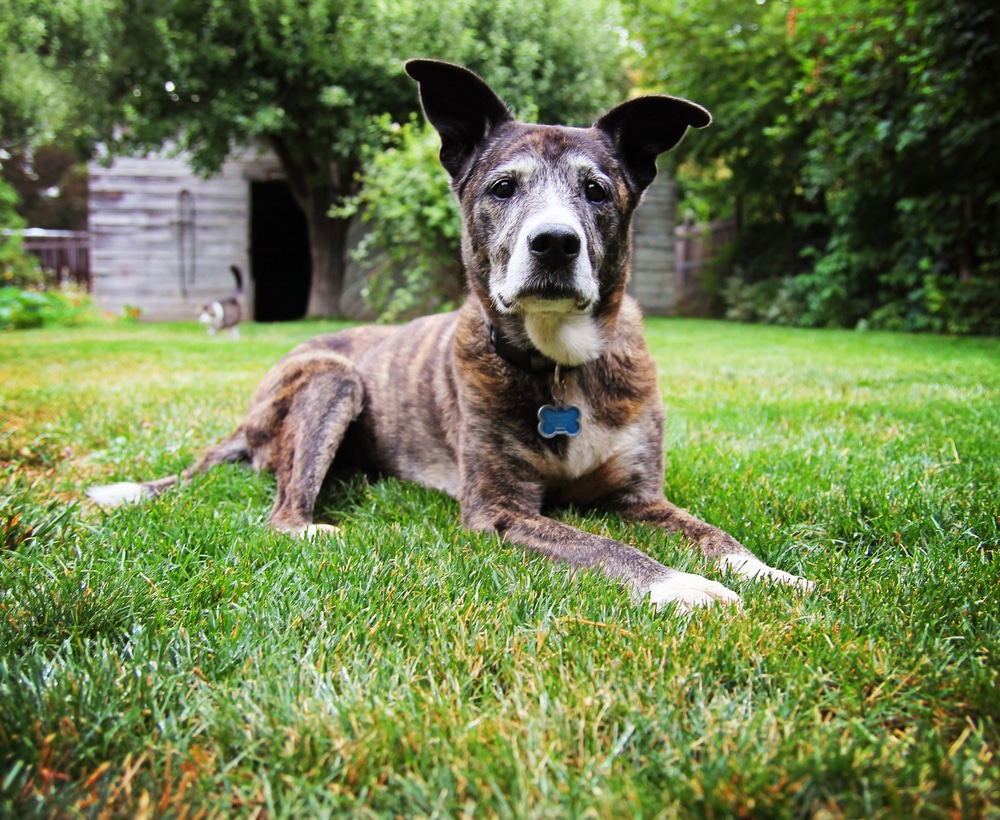 Health care needs
Expect some issues. The shelter or rescue agency will do their best to provide as much information about the pet's medical history, but sometimes there's just no way to know. Therefore, you should adopt with the understanding that certain senior health conditions are likely. Most commonly, you can expect:
Dental disease: With increasing age and lack of dental care, most senior dogs will need appropriate dental work. This may warrant general anesthesia, deep cleaning, and extractions. However, it doesn't just end there, as dental care requires follow up and home care maintenance such as regular tooth brushing.
Arthritis: One of the most obvious ways to tell if a dog is older is watching them move, walk, rise, and settle. Senior dogs will have some degree of osteoarthritis; no pet or person escapes this in old age. However, there are numerous ways to manage arthritis, including providing a beneficial diet that keeps them lean; offering them joint supplements and pain medications; and giving them appropriate exercise, non-slip surfaces, and orthopedic beds. It's amazing how some dedicated adjustments can create significant differences.
Decreased vision: Decreased vision can be due to numerous conditions that often progress with age, such as cataracts and glaucoma. Consider making a living space with less obstacles for a visually impaired dog to navigate.
Decreased hearing: No, they're not ignoring you. A variety of aging conditions that diminish hearing may warrant utilizing creative tactics to get the dog's attention, like being deliberate with visual cues and commands, or having them wear a vibrating collar.
Bring your senior dog to a veterinarian so they can be evaluated for health issues you were not aware of or expecting at the time of adoption. There are an infinite number of diseases an older dog could be living with that are not apparent to the naked eye. After physical examination, topics to discuss with your veterinarian include:
General screening for diseases, typically with blood pressure, bloodwork, urinalysis, and diagnostic imaging. If abnormalities are discovered, additional testing may be required. It is recommended that our senior pets visit the veterinarian at least twice, if not 3-4 times per year, depending on any conditions that develop. Early and regular screening leads to early treatment and better prognoses.
Breed-related diseases to watch for, such as cancer, that a particular dog may be more prone to in old age.
Diets formulated specifically for aging pets or specific disease processes.
Vitamins and supplements that may be beneficial for an aging dog.
Recommended routine vaccinations and parasite prevention. These preventive protocols should be tailored to the dog's age and lifestyle risk.
Pet insurance. Although many companies may have restrictions for pre-existing conditions in older dogs, it's worth considering, as it very well may still pay off in the end.
Behavior needs
Every dog is an individual with a unique personality and temperament. Since behavior problems are one of the most common reasons for relinquishment, it is important to recognize any issues that are ingrained and possibly unmanaged in an older dog, such as aggression, anxiety, or house soiling. If there are behavior concerns, work with your veterinarian to ensure the causes are not medical, as well as a trainer to help modify the behavior. And don't worry—you can certainly teach an old dog new tricks!
Senior dogs are typically assumed to be slower and more passive, but attempts should be made to encourage them to be as active and stimulated as possible (as long as there are no medical concerns that oppose this). Training sessions, puzzles, toys, walks, and social outings should be appropriate to their levels of energy and curiosity.
These activities are also great strategies to prevent and manage cognitive dysfunction (aka doggie Alzheimer's), which is present in 30-70% of dogs over 11 years of age. This is characterized by various signs, including disorientation, altered social interactions, disturbances in sleep-wake cycles, house soiling, and anxiety.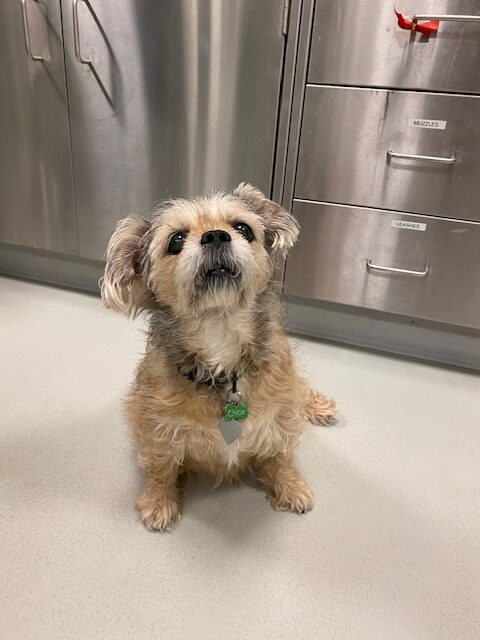 Quality of life assessment needs
Preparing for inevitable death or euthanasia is probably the toughest pill to swallow when adopting an older dog. While you could potentially have a significant amount of time together, the reality is that it will probably be less time than if you adopted a young dog. It is important to establish your expectations for end of life/hospice care and what you are willing and not willing to have your pet endure, whether it be advanced diagnostics, costly treatments, or specialized care. Recognizing and planning for this is a healthy way to ease your mindset when you eventually cross that bridge.
In the meantime, focus on your aging dog while he's still free of significantly debilitating issues and intentionally assess his quality of life as it is now. Pet owners tend to only use quality of life assessments such as the Lap of Love Pet Quality-of-Life Scale to help with decision-making near the end of life. However, using them initially to establish an older dog's quality of life while he is happy and healthy can be helpful in tracking trends and objectively recognizing change when the time does come.
After hearing all these considerations, it's understandable to feel hesitant about adopting a senior dog. However, with the right preparation, education, dedication, and love, you can transform this hesitancy into a truly selfless and compassionate act: giving an aging dog a new "leash" on life. And while there will certainly be challenges, adopting a senior dog can be one of the most rewarding experiences of your life. As a veterinarian, I've had many clients who only adopt senior dogs, and who have told me how much joy they bring one another. I know this personally, too, because I adopted a senior dog of my very own this past year—and I am so grateful that I did. I hope you will adopt one, too.
References
Anderson, K. L., O'Neill, D. G., Brodbelt, D. C., Church, D. B., Meeson, R. L., Sargan, D., . . . Collins, L. M. (2018). Prevalence, duration and risk factors for appendicular osteoarthritis in a UK dog population under primary veterinary care. Sci Rep, 8(1), 5641. doi:10.1038/s41598-018-23940-z
Bartges, J., Boynton, B., Vogt, A. H., Krauter, E., Lambrecht, K., Svec, R., & Thompson, S. (2012). AAHA Canine Life Stage Guidelines. Journal of the American Animal Hospital Association, 48(1), 1-11. doi:10.5326/Jaaha-Ms-4009
Bishop, G., Cooney, K., Cox, S., Downing, R., Mitchener, K., Shanan, A., . . . Wynn, T. (2016). 2016 AAHA/IAAHPC End-of-Life Care Guidelines. Journal of the American Animal Hospital Association, 52(6), 341-356. doi:10.5326/Jaaha-Ms-6637
Dewey, C. W., Davies, E. S., Xie, H., & Wakshlag, J. J. (2019). Canine Cognitive Dysfunction: Pathophysiology, Diagnosis, and Treatment. Vet Clin North Am Small Anim Pract, 49(3), 477-499. doi:10.1016/j.cvsm.2019.01.013
Epstein, M., Kuehn, N. F., Landsberg, G., Lascelles, B. D., Marks, S. L., Schaedler, J. M., & Tuzio, H. (2005). AAHA senior care guidelines for dogs and cats. J Am Anim Hosp Assoc, 41(2), 81-91. doi:10.5326/0410081
This article does not take the place of professional or medical advice. Always see your veterinarian to diagnose and treat health conditions in your dog. The author and Love, Dog do not accept any liability for any injury, loss or damage caused by use of the information provided.
SUBSCRIBE TO
LOVE, DOG
Become an annual or monthly subscriber or give a gift subscription. You'll have full access to all of our original content and best of all, your dog will love you even more!
Subscribe Today