My wife's particular genius is her ability to indulge and entertain canines, our own and most others we've met. Sandy and I have had five Golden Retrievers. Two have succumbed to cancer, the first at twelve and the second at fourteen. We've not had more than three at a time, and only less than two for the first year of our first Golden's life. These are the most social of creatures. I don't remember our kids having as many play-dates. Dogs require the frequent companionship of both humans and pups . . . let's face it, humans don't always get their jokes.
Our current Lords and Lady are Andy, a ten-year-old gentleman; Grant, a seven-year-old triathlete; and Tori, a three-year-old prodigy. Andy has often spent two hours on the woodland trails after a morning-long rainstorm and returned home without a speck of mud anywhere on him. We call him our GQ dog. Grant can outswim, outrun and outcatch any puppy who might make the mistake of challenging him. He does it with a modest grin and a perpetual wag. Tori is a dedicated student of laws both human and natural. She interminably weighs the potential consequences of any choice she might make, convinced the decision will impact all the hours of all the days of all the rest of her life. She resents the notion that she is just lazy.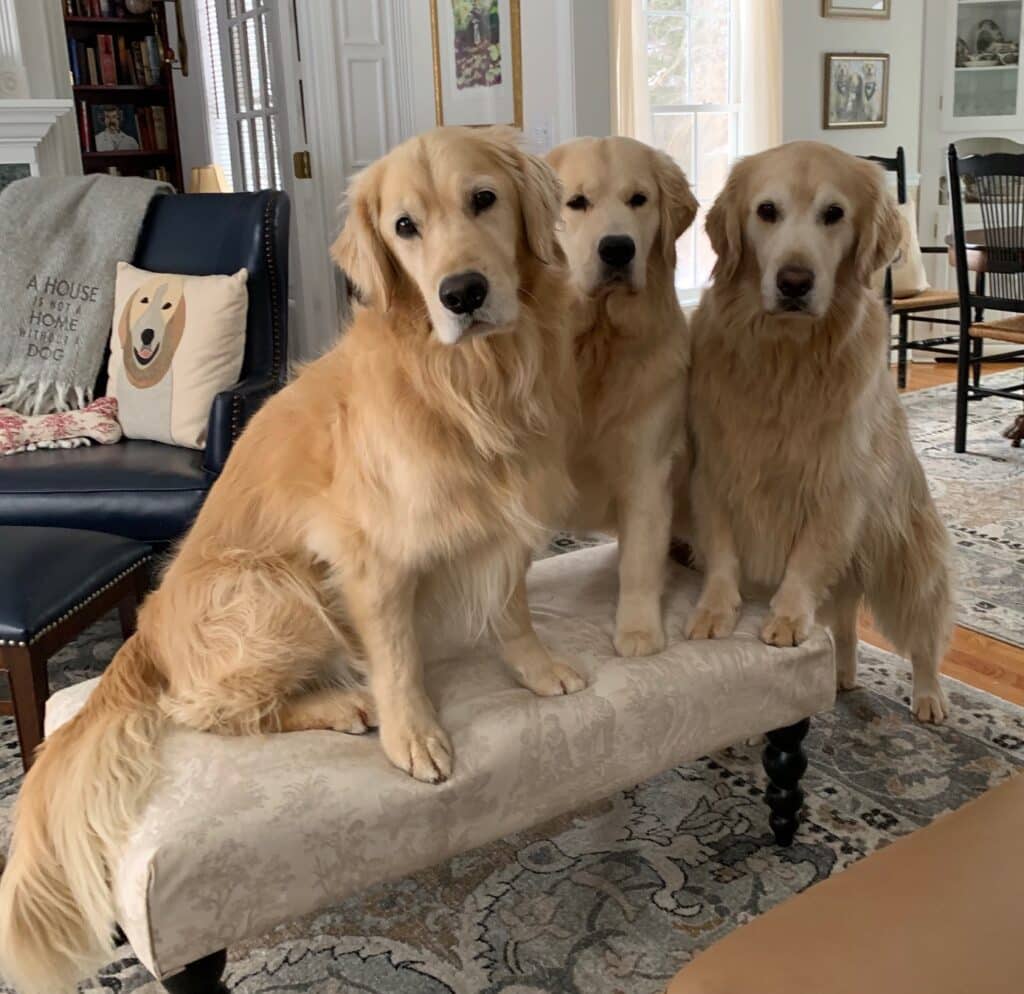 All our Goldens have been therapy dogs. We are required to retest with each dog every two years in order to retain our registrations. Consequently, all have been, and continue to be, regularly drilled in the obedience skills required for their voluntary profession. The dogs have patiently taught us that the successful completion of any command by any of the pups must be rewarded with something delicious for each of them. Who is trainer and who is trainee is not important, so long as the lessons are learned. Our three fur children have obligations at elementary schools, libraries and college campuses. They love their jobs. For them vocation can be confused with occupation. Wherever they go they put smiles on people's faces. It is important work, and the compensation must be commensurate. When one of them comes home from a hard day under the adoring hands of his or her public, everyone must get string cheese.
Patience, consistency, and repetition are surely some of the keys to training a puppy, but effective education for children or dogs is never a dull, rote process. It must be a game, and one that delights the dogs. Sandy knows this. She dances around the house while the pups jump onto a couch at the cry of "On It!" They leap down when they hear "Off!" Front paws pounce in unison onto the ottoman when they hear "Paws Up!" Three furry bodies snap shoulder to shoulder in a perfect "Sit!" then somewhat reluctantly flatten their bellies on the rug after she calls "Down!" When dogs and Sandy are all truly immersed in the sport of it, they celebrate with a triple, synchronized "Twirl!" Proper etiquette insists that each fulfilled request be followed by a delicious morsel. And of course better treats mean more cooperative dogs and bigger smiles for the ever present camera.
There is some agility equipment in the yard. The pups have learned to chase a tennis ball through the once dreaded tunnel, to jump over the adjustable jump bar, and to leap up and pose on the KLIMB platforms. To be sure, the yard is full of tennis and Chuck-It balls, and they get at least twenty minutes of fetch before dinner. Grant's catch and retrieve skills far exceed the others, so while his enthusiasm is genuine, Andy and Tori often prefer to wrestle, with the most ferocious sound effects they can muster. They think this will shame Grant and minimize his showing off. It's not working. Before ball they swim in the pool when it's not too cold. Andy and Tori enter at the steps at one end and swim the length to retrieve balls as we throw them. Ten laps is an average day for Andy; twenty, a good day. This is wonderful exercise for him, and helps keep his weight down. Tori is becoming an excellent lap swimmer in her own right, and we think this will be advantageous for her girth as well. Laps are rather tame for Grant. He'll do them, but he prefers to jump or "Dive!" from the side of the pool. The ball must be thrown far enough away for him to stretch out when he jumps. Form is important.
We all look forward to daily hikes in the woods. Someone has to keep a nose on the critters. The scent trails are ever changing, and variety is the song of life, canine or human. We try to do four or five miles. The dogs probably cover eight. There are nine trailheads within a ten-minute drive of our home, and we feel obliged to monitor all of them. Biscuits slobbered with Peanut Butter must follow every excursion. The exercises are different on the trails. Everything seems more exciting in the forest. We seldom miss a chance to practice recall. The woods are full of deer, and none of our dogs will resist the challenge of chasing them. (All of the best canine games are at heart some form of Chase.)
The deer are too big, and their hooves too sharp, for the dogs to want to catch them. Luckily, the deer are very fast, so the Goldens can follow until their stubby, standard legs become oatmeal and their breath comes in gasps without ever approaching real danger. But they are certainly out of our sight. We cup our hands into megaphones and shout as clearly as we can "Where's Grant!", "Where's Tori!", "Where's My Boy!" After a suspenseful few moments, we can hear them crashing through the leaves, and then we see them, huge smiles on their faces, each racing to be the first back at our side. The treats that award this important reliability are as lavish as our pockets can produce. When our voices cannot carry far enough to reach them, we blow a whistle. I think all pups will come to investigate a whistle. I have called back complete strangers' dogs in the woods with mine.
Hide and seek is another favorite. One of us will slyly drop back until the pups are far ahead with the other, then duck behind a large tree near the trail. The other will ask "Where's Mom?" or "Where's Dad?" All three will immediately race back along the trail with noses close to the ground, and charge unerringly for the sanctuary tree. They surround the fugitive, smiling and laughing and claim their treats as just reward. But wait! The other human is nowhere to be seen!? "Where's Dad?" or "Where's Mom?" And off they go at full speed searching for the new sanctuary tree, where their triumph is repeated and treated.
One of our most useful commands is "Move Over!" We learned this one when we were visiting nursing homes, where the corridors are narrow and often travelled by large carts, or wheelchairs or walkers. The dogs hugged the walls and peeked out between our feet where we could make sure their paws didn't get run over. In the woods they sit just off the trail while mountain bikers ride past, usually with compliments for "Good dogs." Sometimes we do this with groups of hikers who we're not sure will appreciate our pups crowding around them with tails wagging, looking for affection. These strangers almost always call them over to pet them anyway. Naturally there is something good to eat for such lovely manners.
Of course, there are always photo ops. This is probably the best obedience exercise. Sandy can pose a dozen dogs she's never met in a sit line for pictures and hold them long enough for all their owners to get the shot. Our three assume the position almost automatically now, although they don't always feel dapper enough to offer their best smiles. The "Come Around" and "Backup" commands help achieve the perfect alignment. She gets wonderful pictures wherever we are. Each one captures a bit of each dog's personality and contains the perfect local background to tell the story of whatever adventure we're on. My wife does things with pups and her iPhone that show you how special it is to live with a dog, or three. She will often catch them just after she releases them, as they come running to her arms and pockets for love and reward with the word "Beautiful!" That's exactly how it feels.
SUBSCRIBE TO
LOVE, DOG
Become an annual or monthly subscriber or give a gift subscription. You'll have full access to all of our original content and best of all, your dog will love you even more!
Subscribe Today