EXTERIOR. APARTMENT BUILDING – NEW YORK CITY – MORNING – PRESENT
ERIC, 37, tall, pleasant demeanor, steps out onto his stoop, dog-leash in hand. He holds the door for CHIP, an adorable fifteen-pound Scottish Terrier Pincher mixed with Chihuahua flare. Due to a surgery that removed his cancerous lower jaw, Chip's tongue permanently hangs out of his mouth. He's a survivor with a big personality.
ERIC (Voice-Over)
Charlie "Chip" Archibald McDaniels Matluck the First is the full name of this spry, thirteen-year-old puppy.
Eric scoops Chip up, carries him down the steps and gently sets him on the sidewalk. Chip shakes it off, his camouflage coat shifting as spit flies off his tongue. Eric averts his face.
ERIC (V.O)
Oh, we're the best of friends now, but it wasn't always this way. You should've seen him the night we first met…
INTERIOR. SHARI'S APARTMENT – WEST VILLAGE – CHRISTMAS EVE, 2019
Eric enters an apartment. COUNTRY MUSIC plays. A small gathering kicks back, feeling good. The FEW PEOPLE on the couch offer friendly greetings.
AARON, 36, enthusiastic, standing opposite the couch, approaches.
AARON
There he is…
Aaron turns back to SHARI, 35, a small Colombian beauty, warm, welcoming, flirty as she approaches from the kitchen.
AARON (CONT'D)
Eric… this is Shari. It's her apartment.
Eric and Shari shake hands, sparks apparent as they size one another up, both smiling and intrigued. BARK! BARK!
Chip springs off a lap on the couch, trots up to Eric and gives him a sniff. As Eric tries to pet him, Chip abruptly walks away, unimpressed.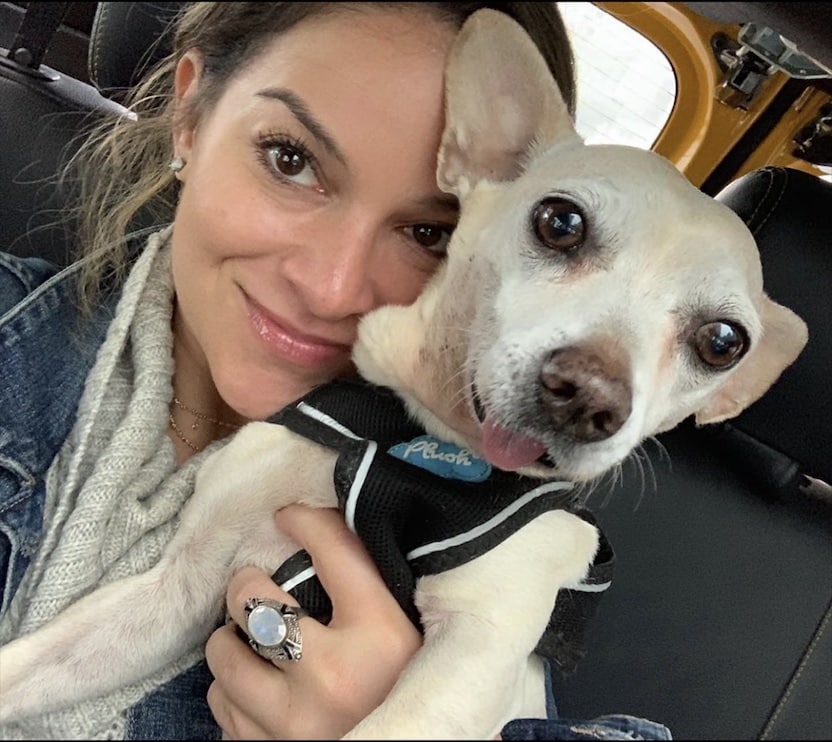 EXT. SIDEWALK – WEST VILLAGE – MORNING – PRESENT DAY
Eric watches Chip size up a trash bag on the curb before marking it. Eric SIGHS.
ERIC (V.O.)
Over the next eight months, things between Shari and me progressed. In fact, we fell in love. I saw Chip every now and then, but he remained aloof.
INT. SHARI'S APARTMENT – WEST VILLAGE – MORNING
Eric sets his bag on the floor. Shari enters behind him, carrying a box of his things.
ERIC (V.O.)
Then, on September 14, 2020, I moved in with them both. On that day, Chip and I became mortal enemies.
Eric squats down, calls Chip over to say hi. Chip BARKS, trots over, suspicious, GROWLING on arrival.
ERIC
Hey Chip! Remember me!?
Chip goes into inspection mode, sniffing Eric's hands.
CHIP
Yeah, yeah, pretty boy… I know who you are. The real question is, what the hell do you think you're doing on my turf?
ERIC
Did you hear that, Shari?!? Chip just spoke to me!
SHARI
Awww… he's just excited that Daddy's home! You bark when you're excited, don't you, buddy?
ERIC
No, I mean, he actually just spoke to me! Like, real words…
CHIP
That's right, punk. And I understand real words too. Speaking of which, did she just refer to you as "Daddy?" Boy, I am eighty-four-dog-years old. That means I'm the head of this family. Not you. Besides, I've seen your kind around here before. You won't last. Not if I can help it. Ah, screw it—I'm gonna go take a nap.
Chip BARKS, scampers off. Eric watches, stunned, realizing only he heard the grandpa-voiced dog channeling Burgess Meredith in Grumpy Old Men and Rocky.
ERIC (V.O.)
What had I gotten myself into? A cranky talking dog only I could hear? And he had it out for me, too! Still, I was determined to be Chip's dog-daddy whether he liked it or not.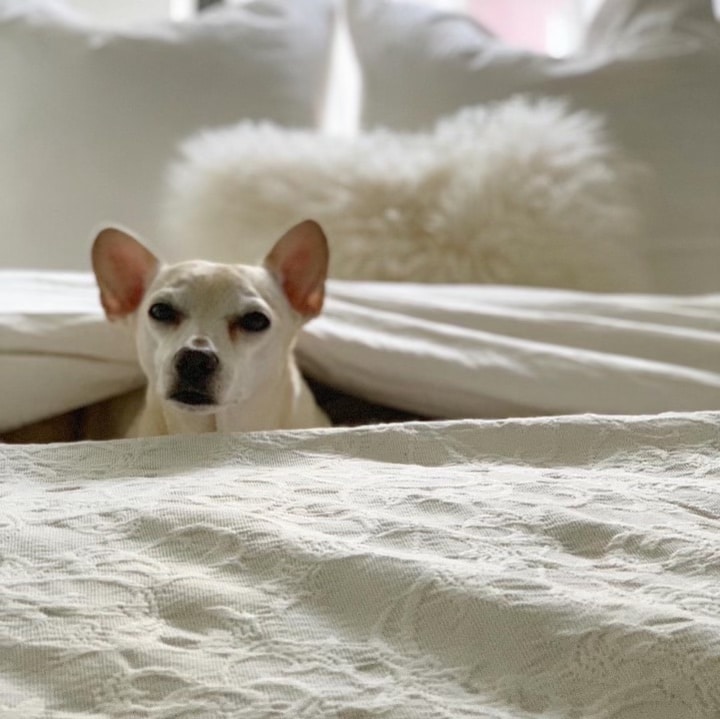 INT. SHARI'S APARTMENT – WEST VILLAGE – DAY
Eric, dog bowl in hand, exits the kitchen. Chip scampers around at his feet, eyeing his food, hopping on his hind legs, front paws up in begging position.
ERIC (V.O.)
Chip was an extra cute beggar of the highest degree, so I figured training him wouldn't be too tough, since he already had all the moves anyway.
Eric snaps, pointing toward a dog bed. Chip tilts his head with a dopey smile and vigorously waves his paw. Eric continues snapping, pointing.
ERIC (V.O.)
Roll over. Play dead. Paw. It was hard not to love the little guy, even though it was clear he didn't love me back.
Chip BARKS back, stomping his paws.
ERIC
Sit, Chip. You sit!
CHIP
Why don't you sit? Come on, Eric, be a good boy! You can do it! Sit!
ERIC (V.O.)
Since training didn't seem to be too effective, I tried bonding with him on walks…
EXT. SIDEWALK – WEST VILLAGE – MORNING
Chip pulls, sizing up a USPS CARRIER BOX. Chip lifts his leg, but Eric pulls him away.
ERIC
Come on, Chip. Don't be an asshole.
Chip scampers to catch up.
CHIP
Hey!! I can do my business wherever the hell I want. Try to stop me again, and I guarantee the next place I pee will be somewhere you really won't like.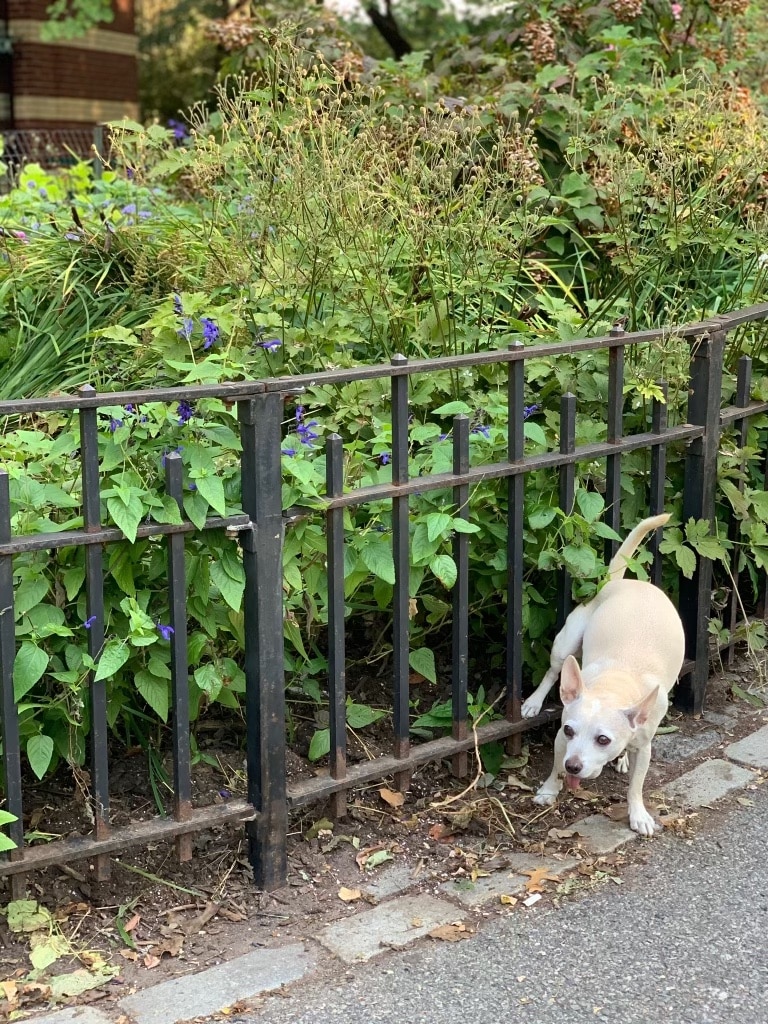 ERIC (V.O.)
But I tried to stay positive, hoping our alone time while I worked remotely would help get Chip on my side.
INT. SHARI'S APARTMENT – WEST VILLAGE – MORNING
Chip sleeps like a king amongst blankets and pillows on the couch. Eric, laptop in hand, sits down beside him, petting Chip softly. Chip stands, shakes off Eric's embrace, goes to the opposite corner and burrows himself a new spot.
CHIP
Let's get something straight—this is my house, bitch. You just live here.
Eric watches him, hurt. Chip snuggles in for an afternoon nap.
INT. SHARI'S APARTMENT – WEST VILLAGE – EVENING
Shari enters, excited, carrying a package and her handbag. Chip perks up, hurries across the couch to Eric and hops on his lap.
ERIC (V.O.)
And to make matters worse, when Shari came home at night, he'd pretend like we were best friends.
Eric holds his laptop out, annoyed with Chip's antics. Shari smiles, heart fluttering.
SHARI
Awww… see!? He loves you.
Eric tries to explain Chip's manipulative game, but Shari thinks he's joking. Chip looks up at her, extremely pleased with himself, then turns to Eric.
CHIP
How does it feel to get played like a fiddle, big guy?
ERIC (V.O)
Chip was a most-worthy adversary, indeed…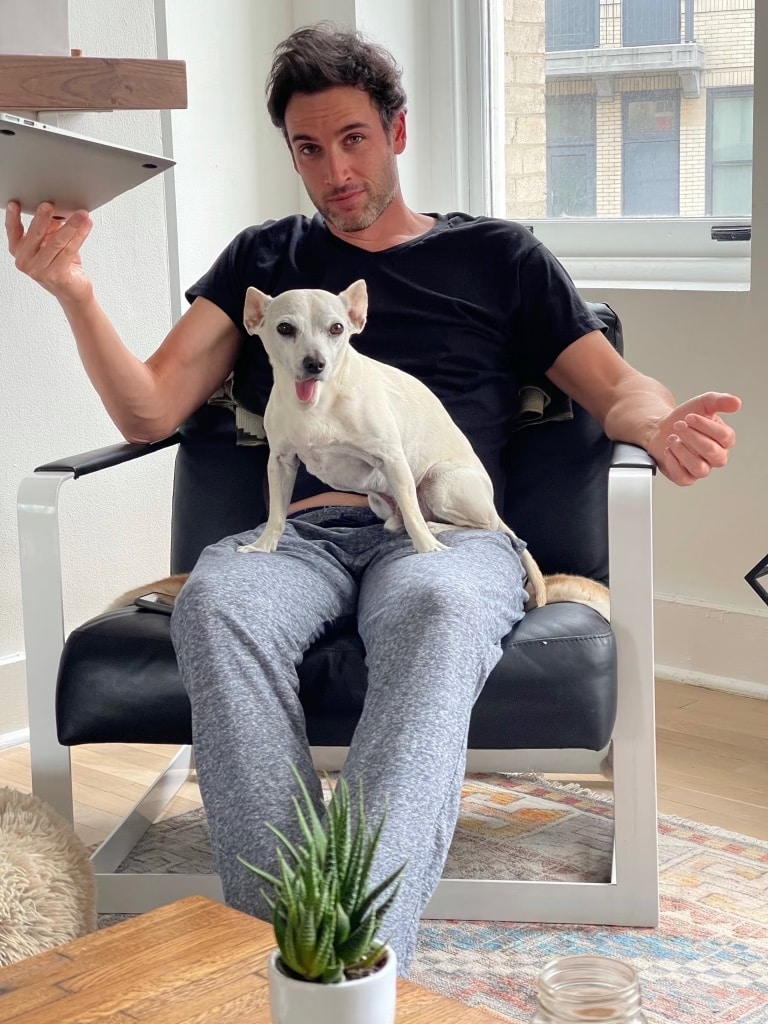 EXT. ERIC AND SHARI'S NEW LOFT – WEST VILLAGE – AFTERNOON
Eric and Shari stand together, smiling and hopeful, looking up at an apartment building. Chip stands beside Shari, on his leash, looking suspicious.
ERIC (V.O.)
But Shari and I were more than just in love. We saw a real future together. And whether I liked it or not, that would definitely have to include Chip. So, I kept trying to improve our relationship… And when the poor little pup got sick and things started to look a bit grim, I wanted to make sure I was there for him in any way I could be.
INT. ERIC AND SHARI'S NEW LOFT – KITCHEN – WEST VILLAGE – MORNING
In a beautiful new loft apartment filled with light, Eric stands in the kitchen, twisting a NEEDLE into an IV drip. He hangs the connected bag of fluids on the fridge handle.
ERIC (V.O.)
Turns out Chippy's constant sampling of anything and everything on the sidewalks finally caught up with him, and he'd developed kidney disease—likely caused by ingesting anti-freeze, not uncommon for dogs. He'd need daily medication and fluids to maintain his quality of life. So, I became his at-home vet.
Eric puts a foldable stepping-stool on the floor. Chip hides under the kitchen table.
ERIC (V.O.)
Shari and I took to our new veterinary roles without question, getting our "routine" on point. A daily game of catch-me-if-you-can.
Eric and Shari laugh.
SHARI
Where you going, baby?
ERIC
We're trying to prolong your life over here, Chip!
CHIP
I've lived long enough! Why don't you two go poke each other instead!
INT. ERIC AND SHARI'S NEW LOFT – WEST VILLAGE – CONTINUOUS
Shari sits on the stool, hugging Chip tight, her face lovingly up against his. She whispers to him as he shakes. Eric lifts Chip's back scruff, needle aimed for incision.
ERIC (V.O.)
Eventually, he got used to it…
Eric holds the inserted needle in place with one hand and locks the IV drip with his other, then removes the needle carefully. Shari puts Chip down. He springs to life, shaking the cobwebs out. He stomps his paws, awaiting a treat.
ERIC (V.O.)
And sure enough, stage four retracted into a more manageable stage two…
Shari pulls a container of apple-bites from the fridge, tosses a couple on the ground.
CHIP
Bacon!!
Chip licks the apples across the floor, struggling to scoop them into his mouth.
ERIC (V.O.)
You'd think that little rascal would've appreciated all the special care… Think again. Our relationship was as touch-and-go as ever. And the better things got between Shari and me, the worse things got with Chip.
INT. OLD HOMESTEAD STEAKHOUSE – PRIVATE ROOM – NIGHT
Chip, dressed in his doggie-tux, sits on a WOMAN'S LAP, watching intently.
CRUNCH. SOUND of GLASS BREAKING UNDER FOOT.
FAMILY AND FRIENDS
MAZEL TOV!!!
"Old Time Rock and Roll" By Bob Seger plays
Shari, stunning in her wedding gown, kisses Eric, in an ivory dinner jacket, for their first time as spouses.
ERIC (V.O.)
Even after tying the knot in July 2021 at a private ceremony which featured him as ring-bearer, Chippity-Do wouldn't give up his status as the #1 man in Shari's life.
Chip runs down the red carpet to join his parents. Shari scoops him up.
As the three of them pose for a family photo, Chip turns to Eric and GROWLS.
ERIC (V.O.)
In fact, now that we were married, Chip's efforts to act out only grew stronger…
INT. ERIC AND SHARI'S NEW LOFT – WEST VILLAGE – NIGHT
Shari chops zucchini on a cutting board beside the stove. BARK! BARK! SOUND of DOOR OPENING.
Eric enters with Chip on the leash, then grabs a baby wipe from the foyer drawer and wipes Chip's paws thoroughly. Eric undoes Chip's harness, watches him scamper into the kitchen. Shari drops him an apple cube.
Eric smiles at Shari, totally smitten. He joins her in the kitchen. Shari smiles back, flirty. Eric spoons her as she continues chopping.
ERIC
Thanks for making dinner…
Eric sweetly kisses her neck. She sets down the knife, runs a hand through his hair. Things progress and begin to get frisky.
PHHHSSSSHHHH!!! Eric and Shari both stop, turn toward the living room.
THEIR POV: Chip stares back, leg lifted, full-stream making a puddle on the carpet.
CHIP
Oh, is this bothering you? How ironic. Because that damn canoodling sure as hell bothers me!
Eric stares daggers, while Shari hurries over, disappointed, scolding.
ERIC (V.O.)
That was it. The gloves were off. This meant war. Unfortunately for me, Chip was a hell of a fighter…
MONTAGE BEGINS
"Bad to the Bone" by George Thorogood plays.
CLOSE UP: Eric and Chip face off like two boxers at a weigh-in.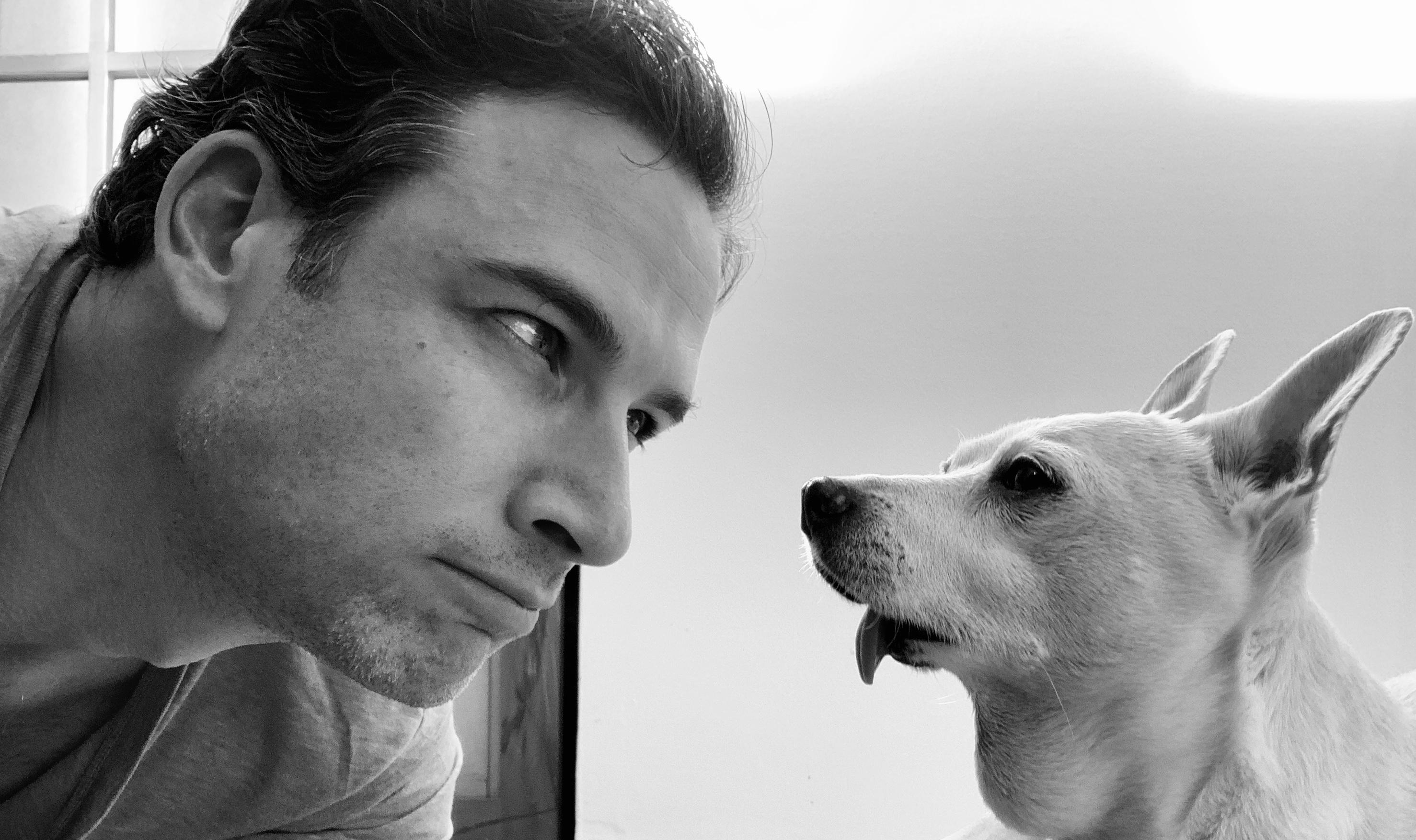 EXT. SIDEWALK – WEST VILLAGE – DAY
Chip plants a poop up against a brick wall. Eric tries to scrape it off with a doggie bag, grossed out. He looks around, embarrassed.
INT. ERIC AND SHARI'S NEW LOFT – WEST VILLAGE – CONTINUOUS
Eric enters the living room from the bedroom, stops in his tracks, furious.
ERIC'S POV: Chip peeing on the rug. PAN OVER to a DRY 'WEE-WEE' PAD. Eric gestures wildly toward it, pissed.
Shari gives the rug a sniff, winces. She turns to Eric, about to cry. He groans.
Eric scrubs the rug vigorously, glares at Chip, watching triumphantly from a chair.
Eric stuffs the rug into their washing machine.
Eric pulls the rug out of the dryer, walks it through the bedroom. He stops.
ERIC'S POV: Chip humps his little bed aggressively. Disturbed and annoyed, Eric continues into the living room, where he stops, crestfallen.
ERIC'S POV: A pile of dog poop in front of the fireplace. Eric drops the rug, fed up.
Eric carries Chip to his crate, puts him inside and locks the door.
MONTAGE ENDS. "Bad to the Bone" fades out.
INT. ERIC AND SHARI'S NEW LOFT – WEST VILLAGE – MORNING
Eric sits at the kitchen table, typing away. Chip rests in a dog bed under Eric's chair.
ERIC (V.O.)
Then suddenly, things actually started to improve. Had I cracked a code? Was Chip's crate as magical as his ability to speak? It felt too easy. Not that I was complaining…
INT. ERIC AND SHARI'S NEW LOFT – BEDROOM – NIGHT
Chip snuggles against a sleeping Shari on her side of the king bed. He perks up at Eric getting in bed, stands and goes to cuddle with him instead.
ERIC (V.O.)
For once, Chip actually seemed to prefer cuddling with me…
Eric puts a gentle hand on Chip. They both shut their eyes to sleep.
ERIC (V.O.)
I didn't even sense any ulterior motive. Just pure love.
Eric startles, noticing Chip burrowing into him. He smirks, closes his eyes again.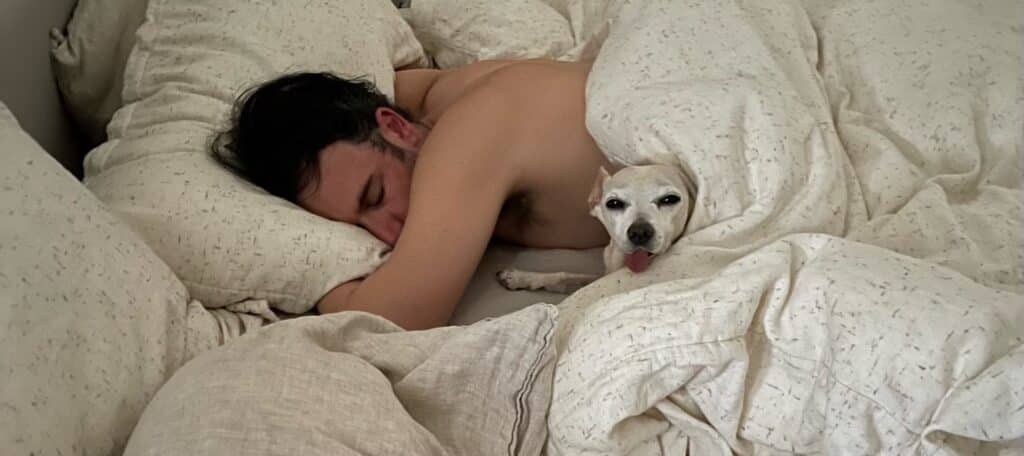 INT. ERIC AND SHARI'S NEW LOFT – KITCHEN – NIGHT
Eric stands at the sink, doing the dishes.
ERIC (V.O.)
Then it happened. The real reason for Chip's shift became clear.
Chip trots from the bedroom into the living room. He looks back, then to Eric.
ERIC (V.O.)
He knew it before we did. Pretty smart guy, that 'Charlie-Chip.'
Shari enters from the bedroom, pregnancy test in hand. Smiling tears of joy, she calls to Eric. He stops washing, turns, notices her holding up the test. They go to each other, embrace. Chip watches.
ERIC (V.O.)
We were pregnant. Our family would be welcoming a new member. And one that wouldn't play second fiddle to Prince Chip.
INT. ERIC AND SHARI'S NEW LOFT – LIVING ROOM – CONTINUOUS
Chip wiggles free from Shari, makes his way across the couch to Eric, leaving her disappointed. She feigns sadness.
ERIC (V.O.)
Shari would have a different number one in her life now. And it wouldn't be me or Chip.
Eric pets Chip, smiling as the pup nuzzles in beside him.
ERIC (V.O.)
Finally, some common ground.
Eric notices Shari, flashes a rye smile. They banter over Chip's new preference.
ERIC (V.O.)
Chip the dog gives me all the attention now. And it's driving Shari nuts. She misses her little man.
Chip stands, shakes himself loose, climbs on Eric's lap and tries to lick his face. Eric evades him with a grossed-out expression. Shari laughs.
ERIC (V.O.)
But Chip knows mommy's gonna be a mommy and he's gonna need to get his fix elsewhere.
CHIP
I guess it's just you and me now, kid.
Eric smiles, glances at Shari with love, a bit wistful. He turns back to Chip.
ERIC (V.O.)
Hey, I hear ya, pal.
FADE TO BLACK.
SUBSCRIBE TO
LOVE, DOG
Become an annual or monthly subscriber or give a gift subscription. You'll have full access to all of our original content and best of all, your dog will love you even more!
Subscribe Today