NOTE FROM DOG
FROM OUR DOG HOUSE TO YOURS
July 8, 2023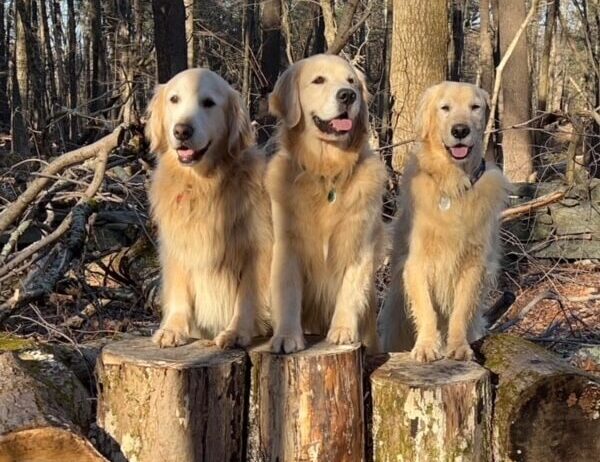 Hello Humans!
You've probably guessed that we're a threesome of Golden Retrievers. We live up here in Connecticut with our folks, Sandra and Peter. We're lucky . . . they give us a great life!
Love, Dog's editors reached out and asked if we'd help them write this week's NOTE FROM DOG because we're actually the stars of one of their new stories, Three Goldens and the Games they Love to Play. Our dad Peter wrote it. Yeah, he's proud of us, and in his story, he sort of brags a lot. He and our mom Sandra (she takes all the pics of us) love the games we play with them. But what he and mom are most proud of is that we're therapy dogs, so we do a lot of volunteering at elementary schools, libraries (we love when the kids read to us!), and even college campuses. We know you humans struggle a lot, and we see this work as our calling . . . just making you guys smile.
Lately, the three of us have gotten to discussing some serious topics. Grant loves to talk politics, and Tori's big on religion, so back in the dog house, we recently had a chat about the bible. Yeah, that bible. Here's what we chewed on for a few hours . . .
Thou shalt love thy neighbor as thyself.

Uh huh. That one. It's a Golden's Golden Rule. We find it rather quaint, and charming, and lovely, and wonderful! Oh yes, we do love ourselves . . . we're Goldens; how could we not? And we do love our neighbors: the dogs, rabbits, turkeys, squirrels, and deer.
But the truth is that sometimes our canine buddies get anxious. Some even have pretty serious separation anxiety. And when they get anxious, or just nervous about something, they bark. And bark, and bark, and bark all day long while you're away.
If you're one of those people who works from home, and your neighbor's dog never shuts up, you know what we're talking about. Or better yet, your neighbor works from home and YOUR dog unabashedly serenades them for nine unrelenting hours every day. Now let's see how "neighborly" you all are! We've actually caught some of you in your attempts to chat your way through this mess you find yourselves in, using every innate skill in your wheelhouse of self-control to avoid escalating the acrimony that's already boiling over. Usually, your efforts don't work out too well. Then come the contretemps. Then the police are notified.

And tell us: how did that go for ya? Sweet Fido didn't seem too bothered by the cop's visit. And the serenade resumes. Nice try, by the way, with the AirPods.

Enter Drew Webster from Denver — and other knowing dog trainers — who can help. In his article, Can I Stop My Dog's Incessant Barking?, Drew breaks down why we dogs bark in the first place (he's got us figured out). He also shares a case study from all the way out in Colorado where he got the result he and his clients wanted. Here's the thing though (warning: it's a tough one!): we dogs like to do dog behavior. Yup, we do! And while we know you guys can't stand some of the things we do, you took us on.
So, we need to talk! Bottom line: we're willing to listen to you and give you what you need. And here's the big surprise: you also need to listen to us because we can tell you what we need. Don't you humans call that a two way street?
Deal? We hope you'll check out Drew's article. If it's not for you but you know someone who might benefit from it, please send it to them. You'll be spreading the neighborly love.
And check this out! In Storystream, one of the editors, Simon Martin, found a great YouTube music video made just for us dogs. They say it keeps us calm. We loved it.

The last word for today is about our pals in shelters. They need you! This week Love, Dog introduces Layla from Brighter Days Dog Rescue in Boulder; Rocky from ARF Hamptons in East Hampton; Pooh Bear from Marley's Mutts in Tehachapi, CA; Cherie from Animal Haven in New York City; Georgia from Chicago; and Tim from Longmont, CO.
Thanks, Love, Dog, for letting us chime in this week. We had fun!
Love,
Andy, Tori, and Grant
Woof Woof: NOTE FROM DOG is Love, Dog's weekly Editor's Note. Our Founder, Mark, collaborates with all of the dogs to help out writing the piece.