NOTE FROM DOG
From My Dog House to Yours
December 2021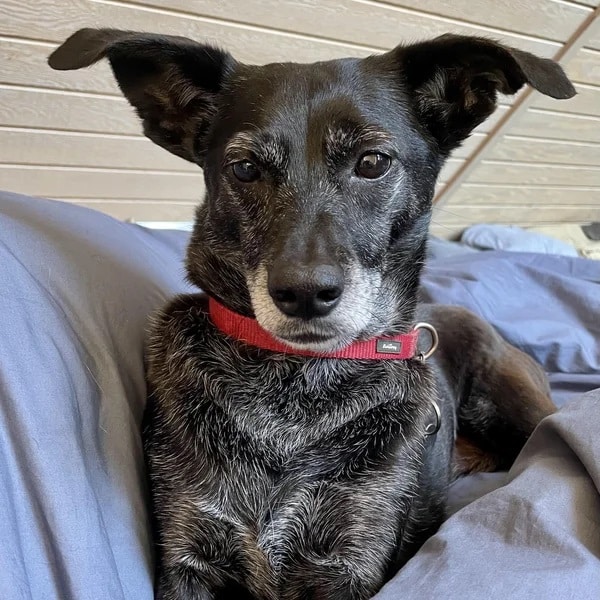 Hello Humans!
Welcome to the new issue of Love, Dog!
I'm Ruby, by the way—nice to meet you! I'm the star of this month's Companionship story, Ruby My Dear, along with my two humans, Lucian Truscott IV and Tracy Harris. Lucian is the author in our family, and he wrote this wonderful remembrance to Chute, Bo Didley, Zip and Zero, the dogs—mostly Dachshunds—from his early years. Then he gets to us, a very happy threesome living here in the Hamptons. Yes, those Hamptons! While it may surprise you that I'm not a fan of water, the Hamptons are full of dogs, cats, turkeys, squirrels, deer, and all kinds of birds and other creatures, so I'm never alone, never bored. As you'll soon find out, the three of us take very good care of each other!
I've been asked by the pack at Love, Dog to introduce our new December issue, so how about if we jump right in!
With the holidays in full swing, a good place to start is Our Holiday Gift Guide, curated by our very own style & design guru, Kristopher Fraser. Seems to me he must have taken a fairly extensive sleigh ride because he found some nifty stuff that you'll probably want to spoil your pooch with.
Our Big Dog Story this month is a little different. Rick Bass, an American author, environmentalist, and animal activist has written a wonderfully powerful, profound, and poignant tribute to my canine ancestor, the wolf. In this essay, On Wolves and Dogs, Rick challenges you humans to stop and think about what you're doing when you kill these wolves—the oldest of the canine species—for nothing more than sport. When humans kill our kind, they not only take a wolf's life for granted, they disrupt the natural order things in the wild and threaten our peaceful coexistence with you human beings. Yup! This is a must read.
In Rescue Culture is Happening, Los Angeles-based writer Nancy Spiller sits down with Victoria Lily Shaffer, a young and influential leader in the world of dog rescue and adoption and the author of a brand-new book, Pup Culture. (We've published a chapter of the book for you in Howler's Hill—more on that in just a moment). As an adopted dog myself, I just want to stop and thank Victoria for everything she's doing to give pups like me a second chance.
This month, Love, Dog leaves our shores and introduces you to the Dogs of India in our December Photo Essay. India's dog culture is quite different from ours in the West. It's a fascinating one, however, and our photographer, Sachin Ghai, who resides in Punjab (home to The Golden Temple), offers us a glimpse into the lives of India's dogs and how they share the terrain with their fellow humans.
In Howler's Hill this month, we stay in India for just a bit and present you with a beautiful poem, Dog in the Valley, by celebrated author/poet Tishani Doshi. Novelist Fiona Maazel has penned our main feature in Howler's Hill, My Asshole Dog. (Maybe I don't need to share anything about it . . . the title alone should be enough to get you interested!) In the latest installment of Chronicles of Brooklyn, Taylor Plimpton chimes in with Lesson #3, Be Kind. As I mentioned above, we've published an excerpt from Victoria Lily Shaffer's new book, Pup Culture. And, lastly, in Ask Hektor, a precocious canine offers profound relationship advice to his fellow canines coping with the insufferable behavior of their adoring humans.
Animal General offers an in depth look at treating canine arthritis holistically, something I personally support!
And we conclude this December issue with MOMENT IN TIME, where writer Christopher Lawrence will transport you back to the early 1980s for a moment with one of the legendary founders of the folk and blues band, The Grateful Dead. This image of Bob Weir and his dog Otis tells a big story about a man, his band, and his fans, and the role Otis plays in the whole affair. In Grateful for Otis, Chris has delivered not only a moment in time, but also a moving piece of music history.
Before I go, I have something to ask of you: please take a look at our Dogs For Adoption section. Like me when I lived in a shelter, these dogs need a second chance at a good life with lots of love. The folks at Love, Dog mean it when they say Humans Needed. It's December, so those two words sink in and see what you can do to find these pups a home. We post new dogs from around the country every Monday, so please check back as often as you can.
Happy Howlidays to all of you from me and the whole pack here at Love, Dog!
Love,
Ruby the Dog