The phrase "family dinner" recalls a Rockwellian image of a mom, a dad, and a handful of children eagerly sitting around the dinner table. This outdated and faded picture contrasts vastly with the modern family, which is, of course, one of our own construction. My family, for instance, includes our two dogs—a yellow Lab named Butter and his sidekick, Jeff the Pug.
As valued family members (in fact, my husband might argue I value Jeff more than him), Butter and Jeff take part in our nightly dinner with my four kiddos. Jeff is known to stroll brazenly across the dining room table, while Butter waits patiently for tasty nibbles beneath it. And even though they may not be the most well-mannered beasts, why shouldn't they be included in this most sacred of rituals? Why should our most dedicated family members (let's be honest: our given family members can sometimes be a bit lackluster) be relegated to eating food out of a paper bag or a can? Do they not deserve an occasional well-cooked meal at the end of the day, too?
While you probably don't want to prepare every supper with your four-footed companions in mind (no onions or garlic ever!?!), an occasional feast tailored to include your pups can be delicious for all. As such, we offer the following recipe, which promises to satisfy the most discerning of humans and hounds alike—and is a healthy option for both species, too! (You know I'm talking about you and that container of takeout.) The only real decision you have is whether Fido literally gets a seat at the table—or, in Jeff's case, on top of it. Bon Appetit!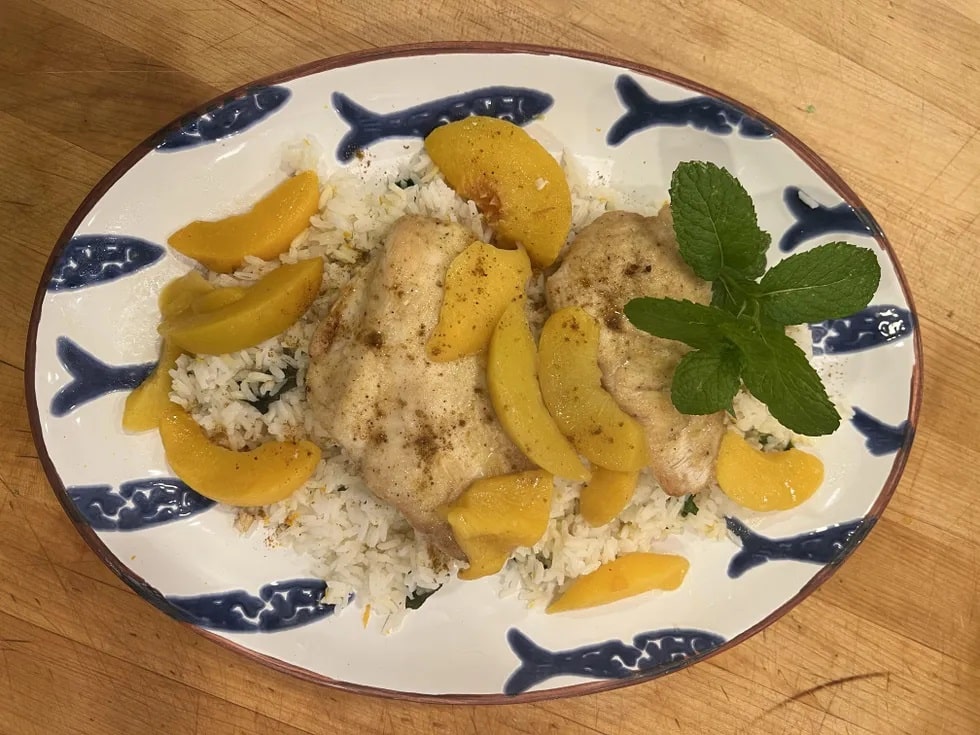 Moroccan Chicken with Peaches and Ginger Orange Rice with Fresh Herbs
Serves four humans and two dogs
This recipe uses Ras el Hanout, a Moroccan spice mixture, which is a combo of coriander, cloves, turmeric, cinnamon and ginger. Turmeric and Ginger are natural anti-inflammatories and great for dogs with joint issues. The mint and parsley in the rice will keep their breath fresh and bright.
4 large boneless skinless chicken breasts, sliced thinly (lean meat is always best for dogs)
3 fresh peaches, sliced (peaches are a great source of fiber and Vitamin A, but make sure you don't let your pups get their paws on the peach pits, which contain cyanide and are poisonous)
1 cup rice
1 ½ cups chicken stock
½ cup flour
¼ teaspoon fresh orange zest (a great source of vitamin C)
¼ teaspoon fresh ginger, minced
¼ cup fresh chopped parsley
¼ cup fresh chopped mint
2 tsp Ras el Hanout
kosher salt (go light on the salt for your pup's sake—you can always add more to your own serving later)
olive oil (shiny coat for both humans and dogs)
black pepper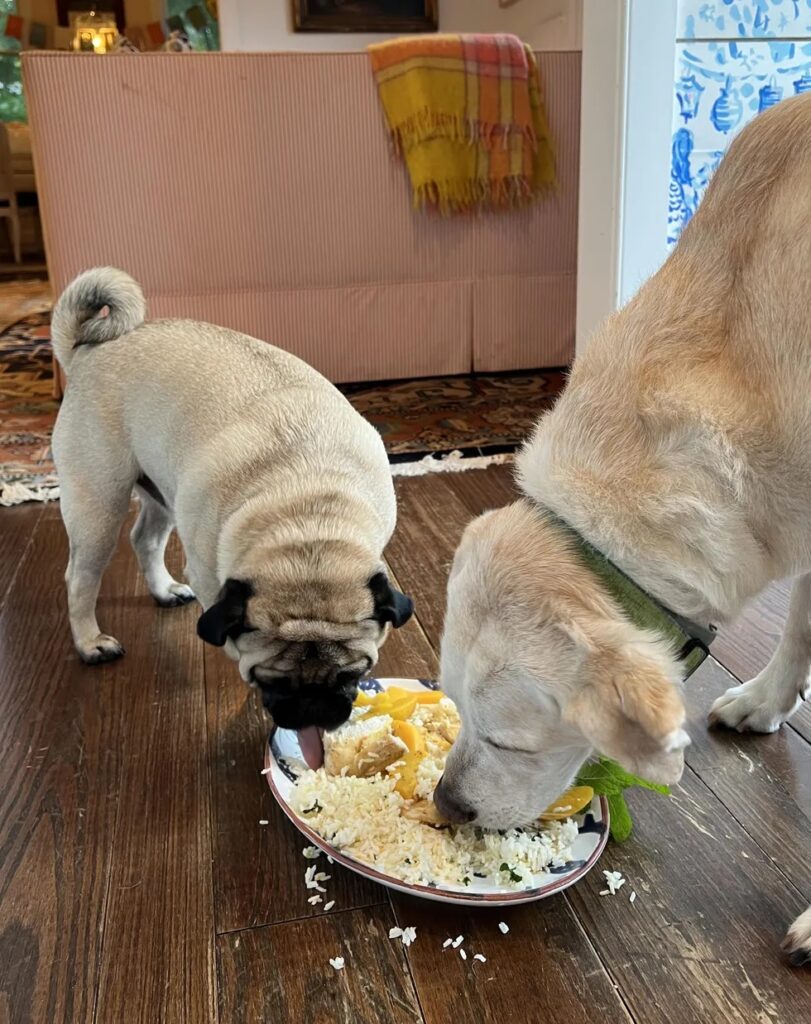 In a saucepan, add 2 cups water, ginger, orange zest, and a pinch of salt. Bring water to a boil, add rice, and stir. Reduce heat to a simmer and cover. Cook for 20 minutes.
Meanwhile, in a shallow dish, add flour and Ras el Hanout seasoning, one teaspoon of salt, and several turns of black pepper. Dredge chicken breasts on both sides with flour mixture. Place a large sauté pan over medium heat and add 2 teaspoons of olive oil. Add as many chicken breasts as the pan can hold without touching or overlapping. Let cook on each side for one minute (don't worry if they don't cook all the way through, as they will finish in the sauce). Remove chicken breasts to a plate and cook the rest of the breasts. When finished cooking the breasts, add the sliced peaches to the sauté pan and season lightly with a pinch of salt. Cook the peaches, making sure to move them around the pan, for 2 minutes. Add the chicken stock and cider vinegar to the peaches. Make sure to scrape up any bits on the bottom of the pan. Continue cooking for another 5 minutes until the stock has reduced. Add the chicken breasts back in and make sure to cover with the peaches. Cook for another 2-5 minutes. The sauce will reduce and thicken. Turn the heat off. Add the fresh chopped herbs to the rice and toss well. Serve chicken topped with peaches and pan sauce. Make sure to let your four-footed friend's serving cool before they dig in.
SUBSCRIBE TO
LOVE, DOG
Become an annual or monthly subscriber or give a gift subscription. You'll have full access to all of our original content and best of all, your dog will love you even more!
Subscribe Today